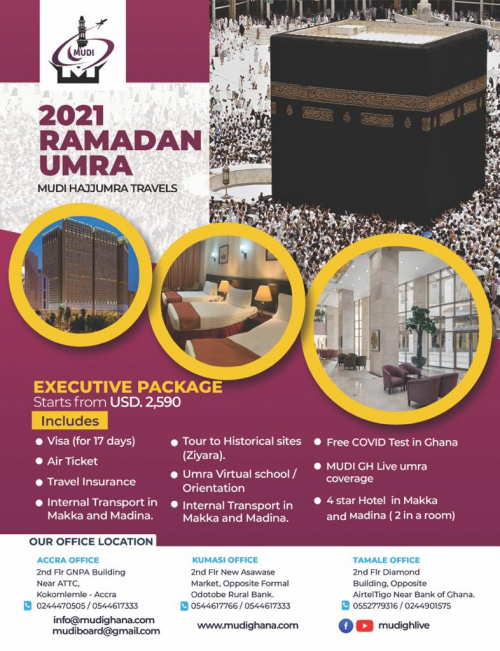 10 April 2021 at 01:48
We are ready for Umra in Ramadan -MUDI
A renowned Islamic Travel and Tour Company in Ghana, MUDI HajjUmra Services announced that it will be organizing Umra during the last ten days of Ramadan 2021.
Speaking to MUDI Ghana.com, the  A.G MD for MUDI HajjUmra Services, Alhaji Mohammed Danzima disclosed that MUDI HajjUmra Services has secured permit to organize Umra for the last ten days of 2021 Ramadan. According to him, the full package which includes Visa, Ticket, Free Internal Transport in both Makka and Madina, 4 Star Hotel with two persons in a room, Free Covid 19 test for USD 2,590.
Alhaji Danzima indicated that the MUDI Group will be departing from Accra on the 30th of April 2021 and return on the 10th May 2021.
Free Umra Orientation will commence from Next week and deadline for payment is mid second week of Ramadan.