MUDI Holds Cooperatives Seminar for Muslims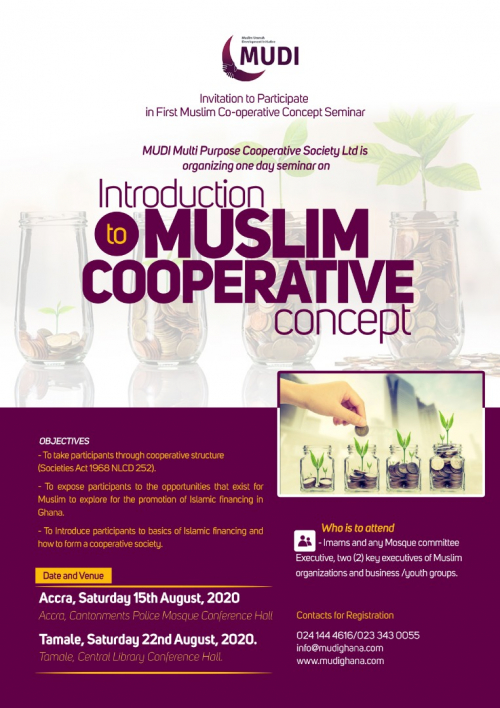 8 July 2020 at 17:35
MUDI Holds Cooperatives Seminar for Muslims.
MUDI Multi-Purpose Cooperative Society , a subsidiary of the MUDI Group, is organizing seminar for Muslims and other stakeholders on the 16th and 22nd August, 2020 in Accra and Tamale respectively with the aim of exposing participants to opportunities that exist in the promotion of Islamic financing through cooperative concept.
In an exclusive interview with mudighana.com, the Chief Executive Officer of the Group Hajj Abdel-Manan Abdel-Rahman disclosed that this seminar is targeted at Imams and executives of mosques and leaders of various Muslim organizations. 
In this country where we have no Islamic Financing regime, the best option for Muslims in Ghana to pursue is the cooperative system, he disclosed. 
Below is the terms of reference 
SEMINAR ON INTRODUCTION OF MUSLIM  CO-OPERATIVE CONCEPT
BACKGROUND
In the second chapter of the Holy Quran verse 275-280, as translated by Ali (2001), Muslims are warned not to engage in interest (riba) which is the most common form of usury, which creates conflict for Muslims who strive to uphold the tenets of the religion.
Ernest and Young in 2014 reported that Islamic Finance advanced from about US$200 billion in 2003 to an estimated US$1.8 trillion through cooperative concept. In this country where we have no Islamic Financing regime, the best option for Muslims in Ghana to pursue is the cooperative system. Because cooperative is more compatible to the ideals of Islam which shares many of the social and economic values found in the teachings of Islam, it will be easier to be practiced by Muslims.
It is interesting to note, that, when the essence of the Islamic Finance principle such as free from interest, transparency and application of profit and lost sharing is combined with the values and principles of the co-operative model, what is created is an efficient, fast growing organization with the potential to greatly benefit its members as well as the society in general.
MUDI Multi-purpose Co-operative, first ever multi-purpose co-operative with Islamic background to be incorporated in Ghana under societies act 1968 to run all co-operative services including financial co-operative is an opportunity for Muslims in Ghana to explore. Many countries including Nigeria, Australia, Indonesia, Canada, USA, etc have adopted cooperative concept to grow their Muslim communities.
MUDI Multi-Purpose Co-operative Union will inshaalah collaborate with all ummah stakeholders including the Coalition of Muslim Organizations, Ghana (COMOG) to introduce the Co-operative system to Muslim Ummah across the country and to establish capacity building mechanism, programs for the young people including co-op members to learn about Islamic investment.
OBJECTIVES
To take participants through Co-operative structure (Societies Act 1968 NLCD 252)
To expose participants to the opportunities that exist for Muslims to explore for the promotion of Islamic Financing in Ghana.
To introduce participants to basics of Islamic financing and how to form a co-operative society.
WHO TO ATTEND
Imams, mosque committee executives (Chairman, Secretary or Treasurer/ Financial Secretary) 
Two key Executives of Muslim organizations in Greater Accra Region and Kasoa.
Two key leaders of social clubs of more than 50 members.
Two leaders of business and women groups.
VENUE
Accra- The conference hall of Cantonment Police mosque.
Tamale- Central Library Conference Hall
DATE:
Accra: 15th August 2020
Tamales: 22nd August 2020
TIME/DURATION:
 8:30am -2:00pm
RESOURCE PERSONS
Alhaji Abdul Karim Dubuire –Board Chairman, MUDI Multi-purpose Co-operative Union LTD
Hajj Abdel Manan Abdel Rahman –CEO, MUDI Group.
Bro. Yussif Geoffrey –Board Member. MUDI Multi-purpose Co-operative Union Limited.
TOPICS TO BE TREATED
Introduction to Societies Act 1968 NLCD 252
Introduction to Islamic Financing.
How to Establish Co-operative Society for Economic Empowerment and Job creation.
How to increase membership and member's equity.